St Joseph's are National Quiz winners!
St Joseph's wins second place at the National Quiz Club Final held on 4 July 2022
Our KS2 team of Misha (Yr 6), Lotti (Yr 5), Josiah (Yr 4) and Neah-Rose (Yr 3) competed against 30 of the best quiz teams from maintained (state) and independent (private) schools in the country on 4 July 2022.
The final was held at The Light auditorium of the Friends House in Fitzrovia, Central London.
Through six tense rounds of progressively more difficult general knowledge questions, St Joseph's kept their place in the top 10, before emerging victorious, in second place, ahead of other South London schools such as Dulwich Prep, Alleyns and Rosemead Prep.
It was a very close competition, with our team's score of 1640 literally only one question away from the overall first place winner.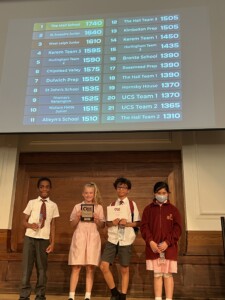 Our team had previously earned their place in the finals after competing in the regional heat on 2 February 2022 against the other schools in the Umbrella Trust ("UT").
Congratulations to our Quiz team and thank you to their families, as well as to Mrs Gallagher, Mrs Hudson and Mr Navarro for helping them prepare, accompanying them and cheering them on.